Claimabill® Costs funds the costs that support legal proceedings.
Claimabill® Costs funding is neither Champerty nor Maintenance under Irish law. The legal basis of this structure is as follows:-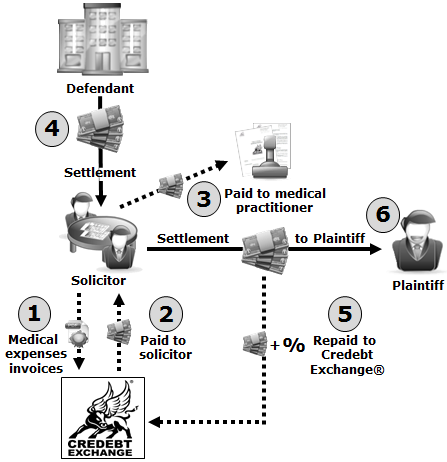 1. Credebt Exchange® will fund the Solicitor, (either the principal partner or partnership), using the Claimabill® Costs Agreement, which works in conjunction with the Master Agreement. The terms will specify that the funds must be used for the purpose of discharging expenses associated with a personal injuries, or a medical negligence, claim of a client of the Solicitor.
2. The Solicitor will engage the advisors and will discharge the expenses.
3. The letter of engagement/invoice between the Solicitor and client shall include provisions that the client shall be obliged to reimburse the Solicitor for any expenses discharged by the Solicitor in connection with the litigation. The Solicitor shall issue an invoice each time an expense is discharged by the Solicitor (the "Invoice"). The terms of the engagement letter shall provide that invoices are payable in full within 7 days of issue and interest shall be charged at X.XXX% per month or part thereof on any outstanding balance not paid on the payment date.
4. By having Credebt Exchange® contract with the Solicitor only, this removes the legal nexus between the funding and the outcome of the case.
5. The Solicitor enters into a 'no foal no fee' arrangement with the client in the normal way, and documents the relationship by way of an engagement letter (the "Engagement Letter"). The Solicitor also enters into a carriage of case letter with the client pursuant to which the client agrees to keep the Solicitor's representation for the litigation unless any replacement solicitor discharges all amounts due to the Solicitor at the time of change of representation, which for the avoidance of doubt shall include all amounts due under the Amount.
6. In the event that the litigation is successful and the Solicitor is reimbursed amounts due to them under the Invoice (which shall include interest because it is being paid after the due date, i.e. 7 days after the date of issue), the Solicitor is obliged to pay the full amount of the received under the Invoice to Credebt Exchange®.
7. In the event that the bill of costs are submitted to Taxation and the Solicitor is paid only a proportion of their costs, the Solicitor is still liable for the full repayment of the Invoice, this further confirms the view of Credebt Exchange® that this arrangement is not in the nature of Champerty or Maintenance.
Your Branch Manager or Finance Specialist can guide you through the different Claimabill® products that we can provide, based upon your, and your clients', requirements.